Read Time:
1 Minute, 30 Second
Track events
Athletes should report to the holding area 10 minutes before their race time and be ready to race, i.e. spikes on, tracksuit bottoms off, etc.
Start lists can be found on both Roster Athletics (NEGP 3 in Roster) and on the usual website  The letters in brackets after the heat numbers (on the timetable shown below) relate to the heats shown in Roster, which uses letters instead of numbers. Times of each heat are shown on the Roster page/app and in the table below – please check your heat on the day of competition for any last minute updates, as athletes change their estimated times and may move heats. If you're using the Roster app on your phone to view the startlists, use the filter option (blue stripy arrow on top right) to look at mixed events only, as it confusing shows separated boys and girls heats otherwise! The pools and timetable for the field events are shown at the bottom of this page. Results will appear on the usual link
IMPORTANT NOTE – The Stan Long Trophy race, heat 1 (A), is taking place after heat 2 and heat 3 – this is to allow presentation time after the event.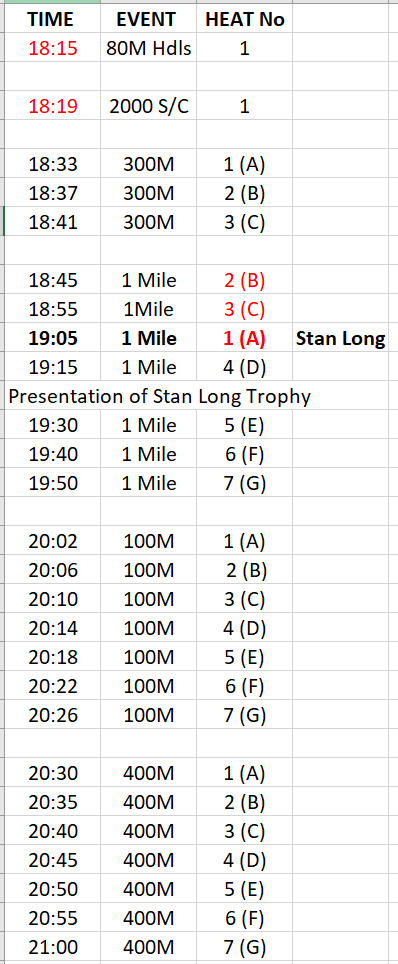 Field Events
Athletes should report to the holding area 20 minutes before the start of their event, or as soon as it is announced over the tannoy.
7pm – Pole Vault, Long Jump Pool A, Shot Pool A and High Jump
After completion of Pool A – Long Jump Pool B and Shot Pool B
After completion of Pole Vault – Triple Jump
Please note all times after initial 7pm start are approximate – the second pools are shown as 8pm in Roster but they may start earlier than this, please listen carefully for announcements on the night.